Habitat Today
Habitat partners with people in your community and all over the world, helping them build or improve a place they can call home. Working alongside volunteers, Habitat homeowners put in hundreds of "sweat-equity" hours as they help build their own homes. Homeowners then purchase their home and pay an affordable mortgage.
News:
---
Painting Continues at 404 N. Thornton

Saturday, May 27, 2017 -- Work begins at 8:00 am and continues until noon. Wear sturdy shoes, comfortable clothing that you won't mind getting paint on, bring gloves and eye protection if you have them. Everything else should be provided.

WHEN: Saturday, May 20th, starting at 8:00 am
---
The Restore will be closed May 27, in honor of Memorial Day. We will re-open normal business hours the following Wednesday.
---
---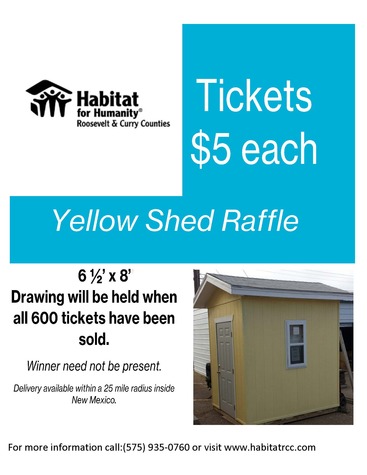 ---
Habitat ReStore Clovis - Still Looking for the Right Person
Part-Time Position: 25-30 hours per week, minimum wage to start
The Habitat ReStore is a fundraising program of Habitat for Humanity of Roosevelt & Curry Counties. The ReStore mission is to generate revenue through the sale of donated and reclaimed building materials and related household articles to support the activities of HFHRCC.
The ReStore Clerk is responsible for materials in the warehouse, loaded onto our trucks, and in the ReStore itself, performing daily operations procedures, customer service activities such as locating items, helping to carry items out to a vehicle, etc., working with volunteers, following ReStore policies and procedures.
Qualifications: High School degree or equivalent, Valid Driver's License
Physical Requirements: Ability to lift 50 pounds, move furniture, Ability to spend the majority of the day standing, driving or moving about the warehouse and ReStore.
Language Skills: Bi-lingual Spanish and English or English-speaking with basic conversational Spanish skills a plus.
Applications are available at the Habitat ReStore during normal business hours. Call 575-935-0760 with questions.
---
Looking for affordable housing? Own your home, but need repairs?
We build houses, but more than that, we help families improve the skills it takes to be a success in life:
· Studies of children ages 5-8 revealed that children of homeowners scored 9% higher in math and 7% higher in reading
· Studies show that children living in owned homes have fewer behavioral problems than children whose parents rent housing.
· Habitat family members become neighborhood leaders, serving in the PTA and community associations.
· Habitat families are supported through establishing good credit, creating a family budget, purchasing insurance, paying taxes, maintaining property values and many other effective homeownership skills.
We turn families who may not otherwise be able to afford a home of their own into proud homeowners.
==============================================================================================================
Habitat can also help current lower-income home owners with critical home repair that may be beyond their means. Zero interest loans for needed materials, repayment plans are based on actual ability to pay. Sweat equity options in order to qualify toward partnering with Habitat volunteers in completing the repair project.

Events:
3
Jun

Pioneer Days


LOCATION:

Clovis


Pioneer Days

10
Jun

Home Ownership Information Meeting


LOCATION:

Kiva Realty Conference Room, 620 W 1st Street, Portales


Learn more about buying a home, acquiring a mortgage, and how someone can qualify for partnership with Habitat for Humanity to build a new home

17
Jun

Heritage Days


LOCATION:

Portales


Visit our booth at the Memorial Building - purchase raffle tickets for our Yellow Shed

22
Jun

Board of Directors Meeting


LOCATION:

Kiva Realty Conference Room, 620 W 1st Street, Portales


Annual Meeting of the Board of Directors




---

Sign up for our Newsletter

Hours: Weds - Friday 10 am - 5 pm
Saturdays 9 am - 4 pm

National Partner Spotlight


Cisco Systems, Inc. is the worldwide leader in networking for the Internet. Cisco hardware, software, and service offerings are used to create Internet solutions that allow individuals, companies, and countries to increase productivity, improve customer satisfaction and strengthen competitive advantage. 
View all national partners




top